CommandValve Smart Electronic Butterfly Valve with KF-16 Flange and Viton Seals, Manual or USB Serial Operation.
The Ideal Vacuum Products (IVP) series of CommandValves are smart electronic butterfly valves. They are a reliable, low-cost alternative to manual or pneumatic gate valves. CommandValves are operated either manually using onboard pushbutton controls, or by computer control via an integrated USB virtual serial port. These smart butterfly valves allow for open, closed, or partially open operation (users can select any angle between, fully open and completely closed). This makes CommandValves an excellent solution for vacuum system integration, remote valve placement, automation, and control, and precision throttling.
These IVP exclusive high flow butterfly valves feature a small footprint, the shortest possible gas path, high accuracy, fast closure time (~270ms), and typical leak rate of 1 x 10
std. cc/sec helium. CommandValves are rated for high vacuum applications to 3 x 10-8 Torr, and for positive pressures to 15 psig. They have an operating temperature range of 0 to 50° C and a MTTR (Mean Time To Repair) of 30,000 cycles. CommandValves operate on 12 VDC (max current draw 0.5A) and each valve is supplied with a power supply and USB connection cable. The permeability of CommandValve O-ring stem seals does not allow them to be used for ultra-high vacuum.

This CommandValve has KF-16 flanges, Viton seals, and a conductance of 3 liters/sec. Use centering ring with Viton O-ring seal for connecting the valve to in-line fittings.

Accessories available for this KF-16 CommandValve:
Centering ring with Viton O-ring, part number P101242
Hinge clamp with wing nut, part number P101198
Bulkhead clamp, part number P104598
Please see the bottom of this page for technical specifications and dimensional data. We also stock a large offering of connection hardware and sealing gaskets in all sizes and types.

CommandValve Applications
CommandValves can be used as roughing, backing, and high vacuum valves. Because they can be opened and closed incrementally in 0.1 degree increments, from 0 degrees (closed) to 90 degrees (fully open), these valves can be used for precision throttling of the exhaust or purge line where it is desirable to maintain a steady vacuum chamber pressure (i.e., for altitude simulation).



CommandValve Construction Materials and Available Flange Sizes
CommandValves are manufactured in the U.S.A. with valve bodies and butterflies made exclusively of 304L stainless steel. Replaceable O-ring seals are made of Viton. They are available in ISO KF sizes from KF-16 to KF 50, and in Conflat flanged sizes from CF 1.33 in. to CF 3.375 in.

Free Downloads (below):
CommandValve User Manual.
IVP Firmware Update Tool and Patch Notes User Manual in which a link to the Firmware Update Tool software is provided. CommandValve firmware updates can only be used with valves which have firmware version 1.7.1 and newer. If the valve is older, please contact us for options.
IVP DirectVac II software (Windows 10 and newer control software for the CommandValve).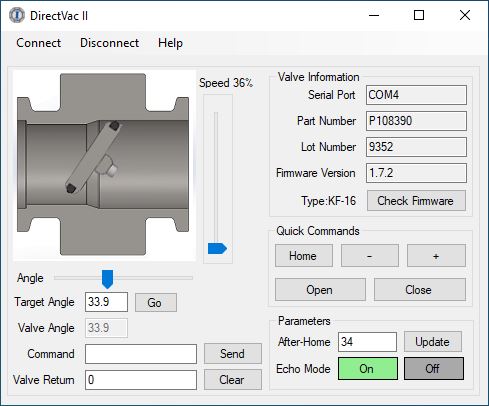 Every CommandValve package includes:
A CommandValve with either KF or CF flanges
A universal power supply wall adapter (input 100-240VAC 50/60Hz, output 12 VDC@3A)
A 3 ft. (1 m) USB-A to USB-B mini cable.